Project Overview
Accurate knowledge of the current and future spatial variation in surface and root zone soil moisture at high resolution is critical for achieving sustainable land and water management. The fundamental limitation is that the spatial and temporal variation in soil moisture is not well known, nor easy to measure or predict. Consequently, a prototype soil moisture monitoring, prediction and reporting system is being developed for Australia, with the Murrumbidgee as the demonstration catchment. The system will provide current and future soil moisture information and its uncertainty at 1km resolution, by combining weather, climate and land surface model predictions with soil moisture data from the European Space Agency's Soil Moisture and Ocean Salinity (SMOS) satellite, launched on 2 November 2009; the first-ever dedicated microwave soil moisture mission. A significant component of this project is developing and testing the soil moisture retrieval algorithms to be used by SMOS and verifying the SMOS data for Australian conditions.
Over the past two years, two field campaigns have been conducted, with their data being accessible through this website. The first two campaigns focused on studying potential calibration sites in Central Australia (SMOS Arid-Zone Experiments - SAZE-Oz) and in the Murrumbidgee River catchment (Australian Airborne Cal/Val Experiments for SMOS - AACES).
PLMR brightness temperature measurements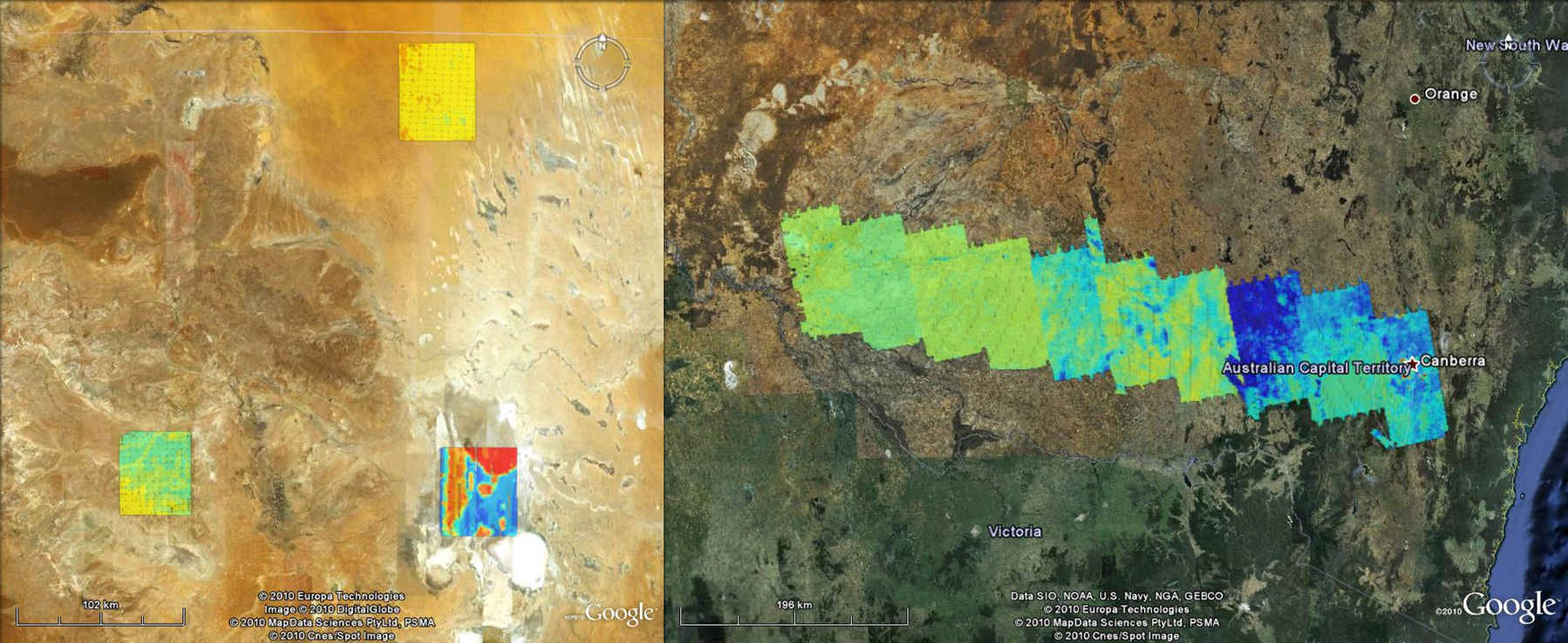 Source: GoogleEarth, accessed on 29 Oct 2010
V-pol brightness temperatures observed over Central Australia in August 2009 (left; Simpson Desert, Lake Eyre) and the Murrumbidgee River catchment (right; observed over a period of 5 weeks in Jan/Feb 2010).